After having a reading downturn, I managed some this week. I returned to some favourite authors who had new(ish) books out. So here we go.
Safe Harbour
by Helene Young (romantic suspense)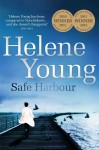 When I first started in RWA, I managed a contest and another manager needed some judges. I volunteered. One of the first entries I judged blew me away. I found no fault in it and wondered why it wasn't published. Then I received a lovely Thank You card where the person said they had been picked up to be published and it was Helene Young's first book,
Border Watch
, which became
Wings of Fear
. So it was with great excitement I waited to see how much the contest entry changed after being edited for publication. And it had. What I thought was perfect before, had been perfected more. And this is how I've watched Helene's stories unfold. Each one I can find no fault with, but the next one seems even better.
Safe Harbour
is Helene's fifth book. I could not put it down. I read it all night. Her skill at feeding out a suspense narrative has only increased again, along with her skill of keeping me guessing which hero the heroine will choose. Darcy loved Noah, but Conor arrived with all his intrigue and hotness, and she was incredibly attracted to him too. It was the good boy - bad boy dilemma, and at times I wanted the bad boy to win her over, then I'd go back to the good boy. It was hard work deciding!!
Drugs in sport is a major theme of this story and another skill Helene has, is of depicting characters with shady backgrounds who've made bad decisions but I never get the feeling that Helene is chastising them. She lets their decisions stand. She explains their motivation. And you get to make judgements, she rarely does (well, not as such!). It's a very clever skill and one I'm in awe of.
Safe Harbour
was a fantastic, un-put-downable read for me.
Next up,
What A Duke Dares
by Anna Campbell (raunchy Regency)
I know there's some flash genre name for Anna's books but I always think of them as raunchy. They have all the flavour of a Regency, but they have characters who swear and have wild sex. I just love them.
Pen and Cam are childhood friends. Pen has always loved Cam but he doesn't believe in love. Pen's family have a reputation for wildness. Cam, as one of the richest Duke's, is trying to restore the reputation his family has left behind.
When Pen is 19, Cam proposes to her - but not with love, with one of those sensible, well-thought out proposals. Much to Cam's shock, Pen refuses and then escapes to Europe. It's not until 9 years later, when Cam is courting a woman who fits his bill of a suitable Duchess, that he meets up again with Pen. And sparks fly.
There is so much action in this story. Pen and Cam go through so much. He's as stubborn and head-strong as she is, but in completely opposite ways. They have a huge amount of sexual chemistry, but huge issues to resolve. The story has a cracking pace, lots of raunchy scenes, and some gut-wrenching emotion, along with some pure heart-string tuggers.
I love Anna Campbell's characters, her writing and her stories.
So two ripper reads! I'm on a roll again :)